# Map & Fold Festival '22: 22.-24.04.2022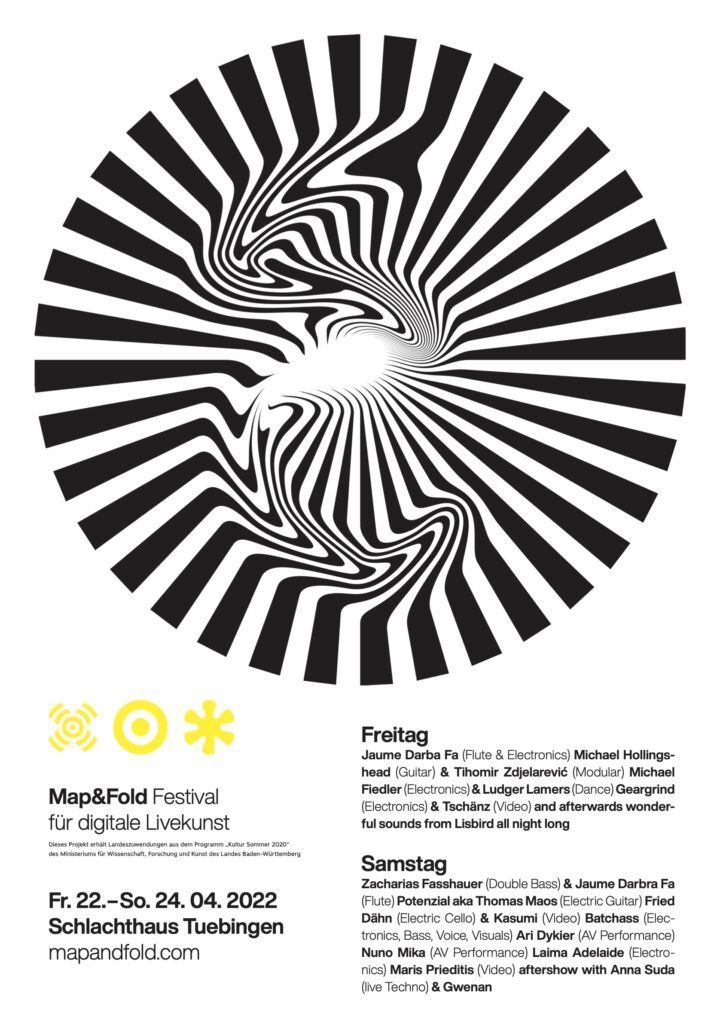 We are back!
Friday
Michael Hollingshead (Guitar) & Tihomir Zdjelarević (Modular)
Ralph Barton (Modular) vs Eric Medine (Visuals)
Michael Fiedler (Electronics) & Ludger Lamers (Dance)
Batchass (Electronics, Bass, Voice, Visuals)
Geargrind (Electronics) & Tschänz (Visuals)
And afterwards, wonderful sounds from Lisbird all night long! Visuals by Erica Terralibera.
Saturday
Zacharias Fasshauer (Double Bass) & Jaume Darbra Fa (Flute)
Potenzial aka Thomas Maos (Electric Guitar), Fried Dähn (Electric Cello) & Kasumi (Video)
Ari Dykier (AV Performance)
Nuno Mika (AV Performance)
Laima Adelaide (Electronics) Maris Prieditis (Visuals)
Aftershow with An On Bast (live Techno) & Gwenan!
Tickets
You can buy tickets via Guestoo. Remaining tickets are available directly at the Schlachthaus.
More Information
POTENZIAL
Fried Dähn (electric cello, loops) and Thomas Maos (electric guitar, electronics). The founders of Camp Festival and curators of Sonic Visions are linked by a musical and artistic friendship that has lasted for more than two decades. Both are cross-border commuters and are constantly researching and expanding the possibilities of their instruments. They are passionate about combining different art forms. They work both conceptually and intuitively and combine noise, rock, new jazz and contemporary music.
Kasumi
...is an artist who works in a broad range of media: directing and producing short and feature length experimental films, live shows, VJ and public art production, creating looping electronic sculptures, designing motion graphics and animated gifs, producing immersive 360 virtual reality pieces and making fine art pieces and wearable art through glitch, data moshing, and silk screen painting. She has created works for the Cleveland Museum of Art, EMPAC (Experimental Media and Performing Arts Center), Instituto Superior de Arte del Teatro Colón, Buenos Aires, Württembergischen Kunstverein, Stuttgart; and her work also was featured at Art Miami, unpainted Media Art Fair, Munich, Museum of Contemporary Art, Krakow, Contemporary Museum Wroclaw, Itau Cultural Center, Sao Paulo, The Butler Institute of American Art, The Museum of Fine Art, Houston, Museu de Arte Moderna, Rio de Janeiro, San Diego Museum of Art, Chroma Festival de Arte Audiovisual, Mexico, and many others.
Zacharias Fasshauer (Double Bass) & Jaume Darbra Fa (Flute)
Faßhauer studied Double Bass with Prof. Detmar Kurig in Düsseldorf and Trossingen, where he obtained a Bachelor's as well as a Master's Degree for New Music. 2021 he was academist at the International Ensemble Modern Academy. Faßhauer took part in master classes such as the Darmstadt Summer Courses for New Music, the IEMA Klangspuren or the Impuls Festival Graz, where he studied among others with Uli Fussenegger and Dario Calderone. Furthermore Faßhauer has given concerts as a soloist and as part of many different ensembles at festivals such as the Donaueschinger Tage für Neue Musik, Spring Festival The Hague, or Klangzeit Festival Münster, 180 degrees Sofia. Faßhauer also appears with his own works, his pieces often concentrate on the interconnections between different media.
Michael Hollingshead (Guitar) & Tihomir Zdjelarević (Modular) aka Strasse 614
Straße 614 is a collaborative sound initiative started in spring 2021 by Tihomir and Michael. Tihomir Zdjelarević is a Berlin based musician. He works with modular synthesizer, bass guitar, four track tape machine, and hardware effects to create large soundscapes with a cosmic vibe. Influenced by the 60s & 70s psychedelic music, especially Krautrock and Berlin school of electronic music, he sent himself on a journey to resurrect the sounds into an another authentic experience. Michael (Satellite Socialite) is an ambient experimentalist that channels his roots in the reverb drenched garage and surf rock California west-coast soundscapes of his youth, combined with lush cycles of deteriorating cassette loops.
Ari Dykier (AV Performance)
…is visual artist based in Poland. He attended Camerimage Film School and most of his career works as filmmaker.With passion for animated works he focused himself on creating animated visuals . His works refers to tradition of surreal animation and wide range of art genres. Through the visuals made from vintage illustrations he attempts to recreate experience of dream and oneiric reality taking inspiration from childhood fairytales, movies, paintings, books or music.
Michael Fiedler (Electronics) & Ludger Lamers (Dance)
LUDGER LAMERS, arbeitet seit 1987 als Tänzer, Choreograph und Lehrer für Bewegungssprachen und Darstellende Kunstformen im In- und Ausland. Neben der Entwicklung von Soloarbeiten und eigener Projekte unterrichtet Ludger Lamers zeitgenössische Tanztechnik, Improvisation und Partnering an verschiedenen Institutionen in Europa, bisweilen auch in USA und Asien.
MICHAEL FIEDLER, arbeitet in Stuttgart als freier Musiker und Produzent. Der Schwerpunkt liegt dabei auf experimentell-elektronischer Musik und Klangforschung. Fiedler bedient sich verschiedener Improvisationstechniken mit digitalen und analogen Instrumenten und Effektgeräten. Oftmals fließen sogenannte Field Recordings ein, welche dem Klangbild zu einem markanten Sound verhelfen.
Geargrind (Electronics) & Tschänz (Video) aka einer & ein Anderer
"einer & ein Anderer" is an audio-visual duo that creates immersive, danceable live performances. They have special focus on showing the audience how music emerges from an idea to a melody to a full-fledged rhythmic experience that carries you away. Geargrind extemporises electronic music, live, with only little preparation before each show, which makes every performance unique. No software is involved in any of his shows. Instead, he uses digital and analog instruments to create a sound that oscillates between spheric-synthetic ambient sounds and hard acid trance. Tschänz studied Media Informatics with strong focus on Visual Computing and Computer Graphics. He focuses on visually appealing content generation driven by real-time audio-reactive projections.
Erica Terralibera
Erica Terralibera is an Italian multimedia artist who works on her synaesthesia. Her loops are the result of the cross media process triggered by her synaesthesia, designed, animated, edited by her and then used in audio / video performances. She has been collaborating for several years in independent m usic festivals and music/art events, as the Electric Fields event at MAG/MART with an augmented reality/interactive installation; the collaboration at "the Multiverse" for Burning Man VR 2020; collaboration with Chris Shape (Cocoricò, Italy) realising his videoclip for Holy Ron hit.
Jaume Darbra Fa (Flute & Electronics)
JAUME DARBRA is a multidisciplinary & independent artist based in Frankfurt, working at the juncture of sound & visual. He combines visual art, music composition and physical approach of sound art by performing in advanced programmed installations and audio/visual live compositions. As a freelance flutist and electroacoustic performer, Jaume is active internationally in the field of contemporary music, sound art and visual arts. Engagements have taken him to all over Europe and Asia, performing in the most important venues, festivals and institutions such as, WienModern, November Music, Snape Maltings, IRCAM, STEIM, Musikfest Berlin, Festival ManiFeste, Lucerne Festival, Huddersfield Contemporary Music Festival, Gaudeamus Muziekweek, Festival Mixtur.
Batchass (Electronics, Bass, Voice, Visuals)
Combination of visuals and original music. Animation of photos, original drawings, shader live-coding.
Musical creation with machines, bass, worked and improvised voices, on an electro-drum & bass background
Nuno Mika (AV Performance)
Nuno Mika, is a Portuguese artist who after studying electromechanics, music, and architecture, began to develop light and sound installations. His immersive, dreamlike environments are designed to envelop the viewer.
Laima Adelaide (Electronics) Maris Prieditis (Video)
Laima Adelaide is an electronic music producer and composer. She studies composition at the HMDK Stuttgart and before that completed a sound engineering degree at JVLMA in Riga. In her music she works with synthetic sounds, noise and loops to create slowly transforming soundscapes exploring a path between deep techno and modern sound design. Maris Prieditis studies philosophy and art history at the University of Tübingen and is an artist with his current focus on photography. In his works he is interested in philosophical theories, the specificity and the possibility of digital photography, for example AI object recognition, layering and manipulation of the RAW data. The thoughts about relations and interdependence of environments, systems and actors form the main area of his exploration.
Ralph Barton vs Eric Medine
ake locally sourced, lovingly handcrafted sounds and images, delicately plucked from sustainable artisanal springs of creativity… then beat with a roque mallet and roll them down a hill in a whisky barrel filled with glass.
Ralf Barton Bandcamp // Eric Medine
Venues
Shedhalle & Schlachthaus Tübingen, Schlachthausstr. 9. The Shedhalle is located in the inner courtyard. Maps.